Who better than our own colleagues to convince you and to tell you what it's like to work here?
In just 3 minutes they explain why they like their job, and what they love about working for Easi. You'll notice it soon enough...
At Easi, we are one big family. We support our common values and together we build our adventure of tomorrow. Are you ready to embark on your journey?
Get in touch!
Job in the picture
Sales Traineeship
Bring yourself and your customers to the next level! 
Do you have the skills? 
Did not see a job that fits?
Happy recruiters at your service
Shana Meers
Business profiles
Margaux Schodts
Business profiles
Milan Manshoven
Technical profiles
Felix De Smet
Technical profiles
Lionel Jockin
Business profiles
Boris Gatz
Technical profiles
We are known for doing everything we can to help our employees reach their full potential. We do this by providing a unique working environment that is the result of a long reflection on well-being and happiness at work. We also form a very strong and close team.
Let's be clear: no employer is perfect for all his employees. Nevertheless, since our establishment in 1999, we have been trying to get as close as possible. Since 2015, we have been named Belgium's Best Workplace in the category of companies with fewer than 500 employees each year. We are more specifically known for the recognition that our employees feel, and the transparency and freedom that exists in our employer-employee relationship.
Becoming a Best Workplace is a shared responsibility. It's not just about being the best employer. It is also about being the best colleagues, with the necessary human warmth, support, and friendship. We regularly arrange parties and extra-professional activities to promote this. Are you ready to meet more than 300 people?
A group can only function harmoniously if certain values are shared. We recruit people in our teams who share our human and professional values. The values that we value are respect, positivism, sense of responsibility, excellence and commitment, for the well-being of us all.
We guarantee professional and intensive coaching. Our future management positions are reserved for our own Easi employees. This is the best guarantee that we can offer to ensure that Easi's DNA based on our values will last overtime.
Easi has more than 100 shareholders, which together account for one third of our employees, all active in our company. We are a participatory company that offers all our employees the opportunity to become shareholders. This organization is a guarantee of resilience and one of the keys to our success. This makes Easi quite unique in the market.
We have been working in a growth strategy for over 25 years and are growing year after year. Why? To be able to offer our employees and future employees more and more opportunities for evolution and to be able to implement ever more challenging projects in a world that is constantly evolving.
Are you tired of those job interviews where you feel viewed and assessed from above? We too! For us, a job interview means the start of your onboarding process. A job interview is an open, honest discussion in which both parties can win. During the application process, you will have the same chance to get to know us as we do to get to know you. After - usually - 3 interviews and possibly an extra phone call with one of our colleagues if you wish, we will make a detailed proposal without surprises.
We also regularly try to move away from the traditional recruitment path. For example, we regularly organize original recruitment days where you can highlight yourself in a different way. Follow us through our social media channels to stay up to date with the upcoming dates and take your chance!
Each package consists of a fixed and variable salary, a company car with fuel card according to your job level, insurance, a mobile phone subscription, expense allowances, meal allowances, vacation days and a system of seniority rewards.
In most offices, we provide extras to make the lives of our employees more comfortable. For example, you can enjoy fruit and soup served every afternoon, visit the hairdresser, or have your clothing dry cleaned. Does your car need maintenance or is it time for a tire change? Then the mechanic comes to pick up your car at our parking and you get it back the same evening.
The unique working atmosphere that prevails with us is the greatest source of satisfaction among our employees. In addition to a modern and pleasant work environment with the necessary facilities (outdoor terrace, showers, ...), you also have a relaxation area with PlayStation, darts, kicker, ... Outside of working hours our Feel Good Team regularly organizes extra-professional activities to promote our team spirit.
Twice a year we take the necessary time for an evaluation interview with your manager. During this conversation, you will get a clear picture of what your possibilities for evolution are. You get clear objectives and the necessary resources to achieve them. We offer the necessary training and support to reach your full potential.
You want to invest in your career by working hard. We recognize the merits of committed employees. You are responsible for your own career. We provide a professional framework and try to help you in your evolution.
We regularly organize surprises: a breakfast, a weekly drink on Friday evening, healthy initiatives, awards, rewards, memorable parties, sponsorship budgets, ... If you want, you get your own budget to organize something yourself. Happiness at work is a shared responsibility!
Discover your future colleagues
Sander Geens
Sales Engineer
After studying Commercial Sciences at KU Leuven, I started working at Easi. Why? Well, the ambitious character of Easi and the personal approach towards both colleagues and clients appealed to me enormously to kick-start my career. Once you start at Easi, you immediately understand what 'Best Place to Work' means.
After graduating as an Industrial Engineer from KU Leuven, I realized that my interest went beyond the technical aspect of projects. I wanted to actively collaborate with clients in order to realize their full potential together. I was offered that opportunity at Easi. In my role as a Microsoft 365 Consultant, I am presented with both technical and functional challenges on a daily basis. I enjoy contributing to our customers' productivity in this way.
Anne-Sophie Bricq
Account Manager
After studying Business Administration at HEC Liege, I began my adventure at Easi as Account Manager for our accounting software. After getting to knowthe company at an event, I was immediately attracted to its philosophy of innovation, recognition and transparency.
The role of Account Manager is very diverse and challenging due to the direct contact with clients, combined with the search for customized solutions.
Luuk Raaijmakers
Senior Business Consultant
During my Computer Science studies at KU Leuven, I was challenged mainly on a technical level. Nevertheless, I consciously chose the position of SmartSales Consultant where the business and human aspects are central. What I like best about my job is the variation between different projects, which allows you to learn a lot and evolve quickly. In five years' time, I developed into a senior colleague and proud co-shareholder of Easi.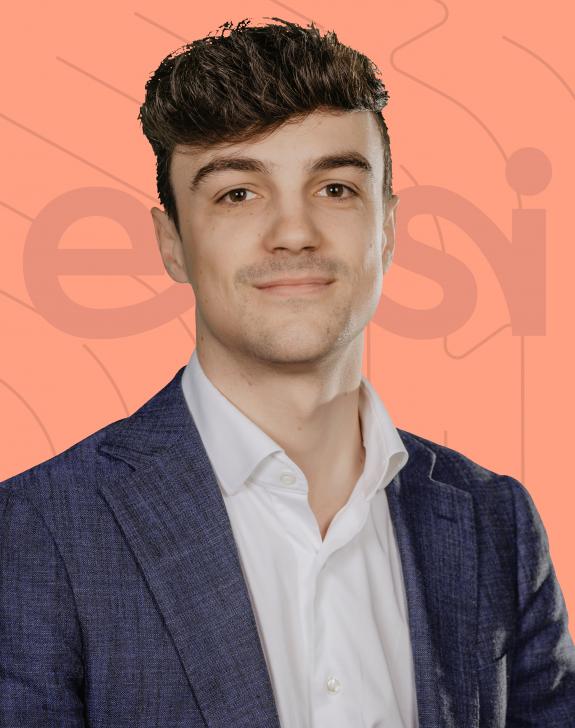 Robin Bruyneels
Security Engineer
After completing my Applied Computer Sciences training at Thomas More Hogeschool in Geel, I found the perfect match at Easi in terms of job content as well as long-term ambitions. Besides personal development in soft skills, Easi entrusts you with a lot of responsibility, allowing you to develop yourself professionally.
Coralie Therssen
Project Manager
The caring and very human approach during my application process convinced me in 2 sentences to work at Easi. You are not a number but part of one big family. I am grateful for the challenges entrusted to me and my motivated colleagues every day.
Nicolas Kamp
Software Developer
After studying Management Science at UC Louvain-La-Neuve, I joined Easi. I was highly motivated to contribute to the success of this growing company and its strong values, so I quickly felt at home here.
I appreciate the good balance between working on-site with different clients and at the office with my fine colleagues. I have no IT background but the training and regular follow-ups allow me to develop my skills quickly.
Easi has been around for 22 years. And it's been elected Best Workplace in Belgium (under 500 employees) every year since 2015. That's about a third of the company's existence. And it has doubled in size over that time. We've been able to maintain our culture and DNA from 1 to 40...
Young professionals are increasingly interested in working for employers who are environmentally responsible.They want to know that their company is taking steps to reduce its carbon footprint and reduce its impact on the planet.They are also interested in companies that are comm...
For anyone just out of business or IT school, consulting seems to be the obvious path. According to a British study, 20% of students and 40% of high-achieving students aspire to join the consultancy industry.
Stay tuned about our job opportunities!